Cubo Kick
is a mid bass bin to enforce the Cubo-series in it's weaker range (100 - 125 Hz and higher) or any other bass cabinet that lacks in that region. Over 10 prototypes were build to ensure a maximum output that's on par with current kick bin designs like the Xtro 2 x 15" section and the HD15. Future measurements will prove that, till then you'll have to take my word on it
Cubo Kick 12
is the smallest cabinet at 45 x 45 x 50 cm (H x W x D). Intitial measurements show it's capable of 110 - 250 Hz in singles, a bit below 100 Hz in doubles.
Cubo Kick 15
is the largest at 62 x 62 x 62 cm (H x W x D), with the exact same dimensions as Cubo 15 and only 3 cm less deep then Cubo 18. Aimed at 80 - 200 Hz, it has the most output in the 120 Hz area, for that well known "pressure on the chest kinda feeling".
Cubo Kick 15 at 45 cm wide
is best used in combination with 12" drivers to get the middle way, 100 - 220 Hz in singles.
Once again it fits from a single sheet of 122 x 244 cm / 4' x 8', use Baltic birch preferably.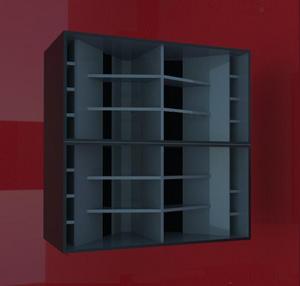 Cubo Kick 15
Designed around the 18Sound 15ND930. Other drivers that should work:
- Eminence Kappa Pro 15
- Faital Pro 15FH520
- Faital Pro 15FH500
Cubo Kick 12
Designed around the 18Sound 12ND830. Other drivers that should work:
- Faital Pro 12FH520
- Faital Pro 12FH500
Recommendation is to use 3" VC drivers, however there's plenty of 4" VC drivers that will work.
Consensus
Cubo Kick needs a consensus of it's usable frequency range and new measurements. I like to keep it from official release till that's cleared. It's designed to keep up with 2 or 3 Cubo 15 slash Cubo 18. For example, on top of two Cubo 15's it will raise the height for the high mid top to ~180 - 190 cm, bringing it well above the crowd ears.
It doesn't need high excursion drivers, though they will work, I expect the excursion to be 3 - 4 mm (6 - 8 mm p-p) in it's working range up to 500 W. That means that combined with a 3" voice coil, there's plenty of low Qts drivers, medium to low Vas, high Fs, low-ish Mms, decent BL, preferably low Le drivers out there for people on a keen budget or real quality affordable for the working man. Oh yeah, high EBP!
Some pointers
Options for influencing how it sounds:
- As it's a port assisted design that has effectively 4 ports of equal size, you can gradually lower the tuning by closing one after another. Lower tuning means it does go lower but at the same time lowers the output below ~110 Hz.
- At the same time it's an effective measure to compensate for the Fs, Qes/ Qts and Vas ratio and size for a particular driver, some drivers might even be best of in a closed cabinet.
In other words, you could try what you like best or what the driver likes best or both.
Another point would be the use of damping, like glasswol, rockwol, synthetic woll, Pritex, etc. Without going into the advantages or disadvantage of one or the other. Use some in the rear chamber as long as the flow to the ports isn't hindered. You could even use some in the beginning of the horn. Personally I would cover most but not necessarily all walls/ sites, that's also to a degree changed by the circumstances at hand.
Preliminary measurements Cubo Kick 12 vs Xtro, +6 dB to give the approximate result of 2 x Cubo Kick 12 vs (2 x 15") Xtro, with the same power.
Best regards
Cubo